The mixing of more than one ingredient during the tablet manufacturing or capsule manufacturing is inevitable and for the uniform mixing of the same, we have developed a world class quality bin blender. This bin blender is far better over the traditional mixing system and therefore very likable in the pharma industries to get the better results. We as a bin blender manufacturer have utilized the latest design to make your ingredient mixing qualitative so as you get the perfect dosage during the tablet compression, capsule filling or pouch filling.
This bin blender is also renowned as IBC (intermediate bulk container) in the pharma industries for its huge material holding capacity. This bin is designed to directly discharge the mixed material to the container unit or mobile bin that ultimately increases the process efficiency, whereas the completely closed transfer system delivers dust free transfer experience across its life. The design of this blender is as per the cGMP standards as well as the AISI 316 SS and 304 SS material of construction is also approved quality that makes it a supreme choice for the pharmaceutical industries.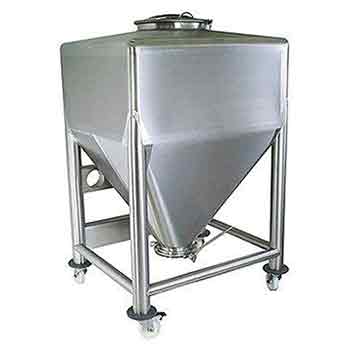 Different size options are available in this bin blender, whilst the tailored gamut is also available as per drawing or specification.
The Bin Blender strongly meets cGMP quality standards
Made from the AISI 316 SS, 304 SS material
Available in both free standing as well as floor/ceiling mounted configuration
Container capacity available up to 6000 L
Precision manufacturing ensures safe execution of the processes
The PLC control system is integrated to operate automatically
Enable to execute different functions, including life, tilt, pivot, drop, dock
Cleaning of the bin blender is carried out through WIP (wash in place)
The design is explosion proof ensures personnel safety during operation
keytag – Bin Blender, Bin Blender Manufacturer,Bin Blender in Vadodara,Bin Blender in India,Bin Blender Machine,bin blender machine,Pharmaceutical IBC Bin Blender,IPC Bin Blender, Bin blender Equipment, Container Tumbler Blenders in India-Gujarat